Best Rustic Home Decorating Ideas?
If you are a lover of raw wood, weathered finishing, leather and stones or a fan of rustic decor style, then you need to know that this style carries a certain nuance inspired by both the farmhouse style and industrial style. And with raw and unfinished elements, outdoor accessories, wood beams and floors, curved ceilings, leather furniture, and wire accessories, you can create the best rustic decoration for your home.
In today's time, places with rustic style decorations often combine the naturalism and vintage of the rustic style along with modern furniture and accessories. As you enter these places, you can easily observe a luxurious, classy, yet naturally simple atmosphere.
Moreover, if you are bored with your current home style and looking for an upgrade, rustic style can do without causing any pocket pain. With simple elements like rugs, a wooden table, hanging frames, mirrors and lighting, you can upscale your decor to modern rustic.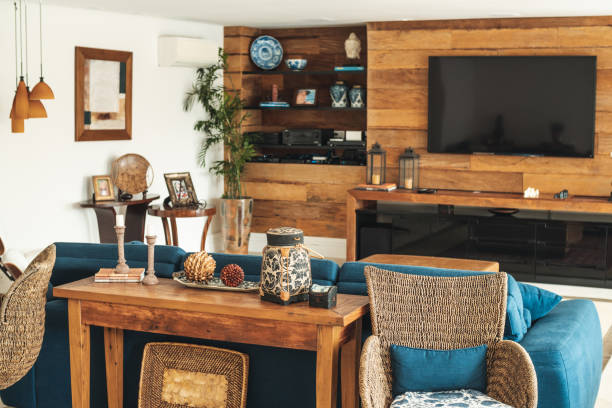 Rustic style is known for its versatility, and adopting this decor style at home doesn't require an interior design specialty. So if you are looking for some rustic upgrades, know the best rustic home decorating ideas which are as follows.
Best Rustic decoration ideas:
1. Wooden coffee table:
First, a wooden coffee table in the middle of your living room is one of the best items to define your rustic home. Whether with painted or steel legs, your coffee only needs a pile of books and a rustic vase with fresh flowers to reflect the rustic style.
2. Rustic dining table:
Just like the coffee table, your dining table has to speak rustic. If you are looking to DIY-ing your dining table, wood pallets can serve the purpose. Otherwise, you must opt for a farmhouse-style table with a wood slab top and steel or white painted legs.
3. Wood-mounted shelves:
Diy-ing these shelves are not hard. If you have wooden slabs in hand, then you are ready to create beautiful rustic shelves to mount on your wall. You can decide whether to mount them using steel support or no shown support. These shelves will have a rustic impact on your visitors. Make these shelves home for a pile of standing books, a nice flower vase or frames with your family's pictures.
4. Rustic wood art:
A pile of horizontal wood slabs and some nails are all you need to make a wonderful, rustic wood art. Instead of putting one next to the other at the same level, try moving those right and left to create a moving effect.
Additionally, decorate these slabs with brushed paint here and there or simply hang them on some handmade vases using ropes and mason jars.
5. Rustic frame gallery:
If you have an empty wall at home or a long hallway, then this wall will make a home for a gallery of rustic frames. Tall, wide or square, all shapes work together. Canvas, pictures or frames with shelves inside, these decorative items will give you eye-catching rustic frames and a wall gallery.
6. Curtains:
Simple curtains with neutral colors can give a lovely look to your windows or doors. However, Roman shades also add value. If you want to choose your curtains, choose colors such as white, off-white, white, grey and nude. Make sure to choose light color patterns for the best look.
7. Lighting:
Imagine if you have a wide rustic chandelier with holes wounded with black steel to insert cups for tea light candles. Furthermore, you can hang it on a wood slab on the wall and nail some steel circles to hang candles or light bulbs.
Visit our website Whynot DIY for more about rustic home decor ideas.
Read Also: 5 Simple Change Rate Optimization Orders for Your Website